Sarah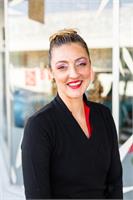 Sarah Gereghty is a STOTT certified Pilates instructor and has 15 years of dance experience, specializing in ballet. Drawing from this experiemce she is able to help her students become aware of their body to gain stregnth and ease of movement. She helps them to build their core muscles- using core muscles in every movement in class, and eventually in all live movement.With her kinesthetic knowledge of anatomy and how the muscles move, Sarah will help her students to build a lengthened and strengthened body. She has worked with a wide range of students, from other dancers to students recovering from injury, she has taught beginning students as well as advanced students. Sarah has worked in Northern California, Wichita, New York and San Diego.
Sarah instructs the following:
Equipment Essentials caters to a group of 4 students and covers essential level material on the reformer, chair, and cadillac as well as small equipment such as foam rollers and balls. Use of pilates equipment enables the student to increase core stability while improving posture, flexibility, and balance.

*Tones and Strengthens muscles
*Improves balance, flexibility, and range of motion
*Creates a more streamlined body shape
*Strengthens core stability muscles
*Improves posture and lengthens spine
*Improves endurance
*Strengthens underused muscles and alleviates tension of over-developed muscles




This group equipment class is designed for those new to pilates, returning to pilates after a long absence, or who are in the early stages of conditioning. The class will be structured to meet everyone's needs with a slower, more gentle workout.




Pilates Challenge is designed for those who have mastered the essentials of Pilates on the Reformer, Cadillac and Chair. This class will challenge and further increase your strength, flexibility and coordination.