Natalie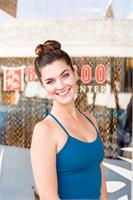 Originally from Sacramento, Natalie trained in classical ballet starting at a young age. She followed her dance passion to University of California, Santa Barbara where she graduated with a Major in Dance and a Minor in Exercise & Health Science. Natalie moved to San Francisco post-graduation in order to pursue a dance career in the welcoming artistic community. In a short time she faced an ankle injury that resulted in surgery, and Pilates ultimately regained her strength and got her dancing again. Pilates had been a part of her regime as a young ballerina but it was the re-introduction after surgery that helped reawaken her passion.
Natalie comes to San Diego from San Francisco as a certified STOTT Pilates Instructor. She received her training at the Licensed Training Center in San Francisco, Blue Sparrow Pilates. After training, she continued to teach and learn for the entirety of her time in the Bay Area under the direction of Holly Furgason. Since she began teaching she has helped people manage chronic pain and diseases, as well as recover from debilitating injuries. Natalie is on her way towards specialty tracks in post-rehab Pilates and pre & post-natal Pilates. She is thrilled to be a part of the Pilates community here in sunny San Diego!
Natalie is currently not instructing any classes.