Kitty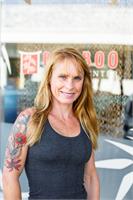 Kitty is Stott Pilates advanced Performance and rehab Instructor and certified in teaching TRX and Kettlebells
Kitty James has lived in Coronado since 2003. She is originally from NYC where she was raised and danced professional classical ballet for 15 years. She studied with The Royal Academy of dance (RAD) and School of American Ballet (SAB). She also had the opportunity to dance at Pacific Northwest Ballet and Competed in the Prix de Lausanne in Switzerland.
Kitty first discovered Pilates while recovering from a dance injury at age 14 at The School of American Ballet. She had multiple stress fractures on her Lumbar spine and needed a rehab therapy method that would support her classical dance movements and train her entire body safely.Kitty retired from dance and had to further heal her body of chronic injuries she hadacquired and used the Pilates method to get her body back online. She moved to San Diego in 2001 when her husband was perusing his career in the Navy.After the birth of her 3rd child she decided to undergo her complete Stott Pilates training and pursue her desire to teach and help others through Pilates. She later had a severe abdominal diastasis and needed to take time heal herself again with a more therapeutic style of Pilates..
Kitty's life journey has given her the opportunity to train clients for the past 4 years from the rehabilitation level to a high performance level. She enjoys working with a variety of clients and is excited to work at Bamboo Pilates and be so close to home!
Kitty instructs the following:
This class caters to a group of 4 students and covers essential level material on the Reformer, Chair, and Cadillac as well as small equipment such as foam rollers and balls. Use of pilates equipment enables the student to increase core stability while improving posture, flexibility, and balance.

*Tones and Strengthens muscles

*Improves balance, flexibility, and range of motion

*Creates a more streamlined body shape

*Strengthens core stability muscles

*Improves posture and lengthens spine

*Improves endurance

*Strengthens underused muscles and alleviates tension of over-developed muscles