Alicia Perez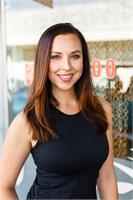 Alicia's ten years of experience as a personal trainer, means she boasts a wealth of experience in helping people become healthy, inside and out. Alicia studied for her Bachelor of Science degree in Kinesiology at San Diego State University where she graduated in May 2003. Alicia carries several certifications including STOTT Pilates Certified Instructor Level I and II, American College of Sports Medicine Health Fitness Instructor Certification, C.H.E.K. Level I Holistic Lifestyle Coach, and TRX Suspension Training Instructor. In addition to working at Bamboo, she is also an instructor and the Fitness Director at Marshall Eklund Fitness and Pilates. Ever driven by her passion for making the world a healthier place, in her spare time Alicia is either working out with her significant other, or researching the latest training methods and healthy recipes.
Alicia Perez instructs the following:
Equipment Essentials caters to a group of 4 students and covers essential level material on the reformer, chair, and cadillac as well as small equipment such as foam rollers and balls. Use of pilates equipment enables the student to increase core stability while improving posture, flexibility, and balance.

*Tones and Strengthens muscles
*Improves balance, flexibility, and range of motion
*Creates a more streamlined body shape
*Strengthens core stability muscles
*Improves posture and lengthens spine
*Improves endurance
*Strengthens underused muscles and alleviates tension of over-developed muscles




The Reformer Jumpboard trio is the perfect way to incorporate cardio into your Pilates session. The jumpboard mimics the hard surface of the floor without the impact. This is a full body workout that uses interval training along with exercises on the TRX, stability chair, Cadillac and other small pieces of equipment.




Pilates Challenge is designed for those who have mastered the essentials of Pilates on the Reformer, Cadillac and Chair. This class will challenge and further increase your strength, flexibility and coordination.




Class description: This all-levels class that combines equipment based pilates with The MELT® Method techniques. The MELT Method brings your body back to a more ideal state by directly enhancing body awareness, rehydrating connective tissue, and quieting the nervous system. We will use specialized soft rollers and small MELT Hand and Foot Treatment Balls for the first 15-20 minutes of the session to ease chronic neck and low back strain, improve alignment, and enhance athletic performance. The remainder of the session will be spent on the reformers, cadillacs and stability chairs. This in a 60 minute session. *You must be able to get up and down from the floor on your own.